Let's celebrate the politics America birthed today
with all the raucous joy embodied by that great Dave Alvin honky-tonk song.
Let's go to American parades that cops start with a siren blast from a polished cruiser that crawls down Main Street ahead of an honor guard carrying the USA's red, white & blue banner. Maybe the flag bearers are our National Guard neighbors, back from one sandbox or another or about to ship out, but they're here today, bless 'em. Stand tall and salute appropriately as they pass by left, left, left-right-left.
Then relax in 2010's big heat as the vacation remnants of a high school band march past murdering some song like Louie, Louie.
Here comes a scattered crew of spangled twirlers spinning and tossing batons. Breaks your heart when the kids drop one, but in a good way, because they've got the courage to be out there on the hot pavement.
Maybe there'll be floats from local businesses that scraped together enough cash to show up one more time and toss candy to scrambling children. There might be antique cars from back when Detroit ruled the world and there's sure to be a convertible ferrying a waving politician who is probably just as surprised as we are about the election. In some towns, gray haired Shriners zip back and forth in go-carts like buzzing bees who can't believe they're having this much fun and doing that much good.
Fire departments roll their red trucks past us, and in places like Healdsburg, Calif., the parade is just the start of many Kurt Vonnegut fabled volunteer firemen's Independence Day duties that often end with them managing Oooo! & Ahhh! fireworks, probably imported from China and shot off from a ball field or fairgrounds.
From the country's oldest Fourth of July parade in Bristol, R.I., to Mount Carmel, Ill., from Darien, Conn.,to Waco, Texas, odds are that marching past us will come a multi-generational squad from the Veterans Of Foreign Wars or the American Legion, some of them in their group's colors, others in the tatters of uniforms they filled when they were younger and lucky enough to come home when many, so many, of their comrades in arms didn't.
And if you're in some place like my hometown of Shelby, Mont., bringing up the rear of the parade for obvious practical purposes come the cowboys, our mythic working class heroes on horseback. As they clomp past, maybe they'll wave their Stetsons: Howdy! How' you doin'? So long!
Today's parade will be hard to miss in America. According to James Heintze, American University's librarian emeritus and an expert on the Fourth of July: "Practically every town of reasonable size has a parade going on," most starting between mid-morning and mid-day, for a total number in the tens of thousands.
But this Fourth of July represents a hard choice for American communities from Moorestown, N.J. to Monterey, Calif., as the post-Wall Street crash recession crunches city budgets and forces celebration cutbacks.
And then there's British Petroleum's oil spill catastrophe along the Gulf Coast of Britain's former colony, where in towns like Grand Isle, La., fireworks celebrations traditionally triggered over the soothing surf have been canceled for fear celebratory pyrotechnics might set the night on fire in a fashion clearly not intended in Bruce Springsteen's Fourth Of July Asbury Park (Sandy).
Even in these hard times, Americans march.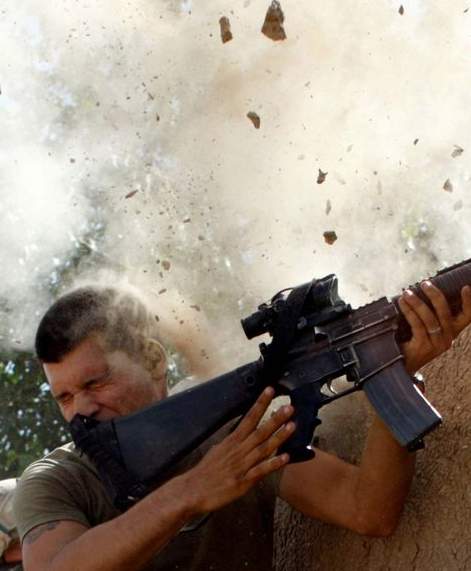 Some parades end at grandstands with grand speeches many of us sort of listen to as the day grows hotter and the air heavies with smells of grilled burgers and hot dogs, barbecued pork and chicken, catfish, tacos, African Coupe-Coupe meat, and Nem Nuong Vietnamese pork meatballs. Watermelons wait to be sliced. Watch out that the ice cream doesn't melt. Keep the beer cold -- we drink more of it on the Fourth of July than on any other day.
Sometimes our personal celebrations merge with legendary spectacles in places like Boston, Chicago, New York and San Francisco. If you're not there, TV and Internet will bring those boisterous celebrations into the quiet of your own home.
And there, or in community parks while the sun sets and anticipation grows, celebrities perform, or orchestras and bands fill the air with familiar songs -- The Star Spangled Banner, of course, most likely The Stars And Stripes Forever, maybe America, The Beautiful or God Bless America, Semper Fideles or My Country 'Tis Of Thee, less familiar works like Fanfare For The Common Man or perhaps something by American composer Charles Ives. My favorite patriotic anthem is Woody Guthrie's This Land Is Your Land. But whatever you like and whatever you hear tonight, do yourselves a favor: Don't be cool. Stand up. Sway with the music. Sing along. Sing loud, sing proud.
Then as day yields to night, watch wonders as simple as a child waving a sputtering sparkler, and pageants as awe-inspiring as fireworks' silver starbursts over our U.S. Capitol grounds within eyesight of the White House.
We'll see all that, if only in our mind's eye. And even on our meanest streets where crack and heroin, meth and semi-automatic guns carve their rule out of our democracy, where people are broke or busted, hungry or homeless, even in such harsh places they'll know from snatches of radios playing in passing cars that, Hey, Baby, it's the Fourth of July.
So it goes, Vonnegut liked to say. But before today goes into tomorrow, pause for one moment to celebrate the full spirit of this holiday that means a whole lot more than any parade or picnic or pyrotechnic Oooh's & Ahhh's.
What today celebrates is freedom
.
What we need to remember is that freedom is equal parts get to and got to.
Can't have one without the other.
To get to enjoy as much freedom as we can, we got to keep our system as free as we can. We own our Independence Day celebration because we earn it with what we do every other lucky-to-be-here day, starting with the simple idea that for you to respect my freedom, I need to respect yours. We need at least that much civility to make freedom work. As noted by Benjamin Franklin, the shrewdest rebel who signed the Declaration of Independence : "We must all hang together, or assuredly we will all hang separately."
So watch the parade. Have a hot dog. Listen to the music, dance a little, laugh a lot. Look up tonight at that vast dark sky that can swallow any dream. Watch freedom's fireworks light the faces of those who and that which you love to show you the way home.
Hey, Baby, it's the Fourth of July.